Montana Cattle Drives
Cattle Drive on the Blackfeet Reservation
Montana Cattle Drive Dates:
Spring I Cattle Drive - June 2 - June 8, 2019
Spring II Cattle Drive - June 16 - June 22, 2019
Fall Cattle Drive - September 29 - October 5, 2019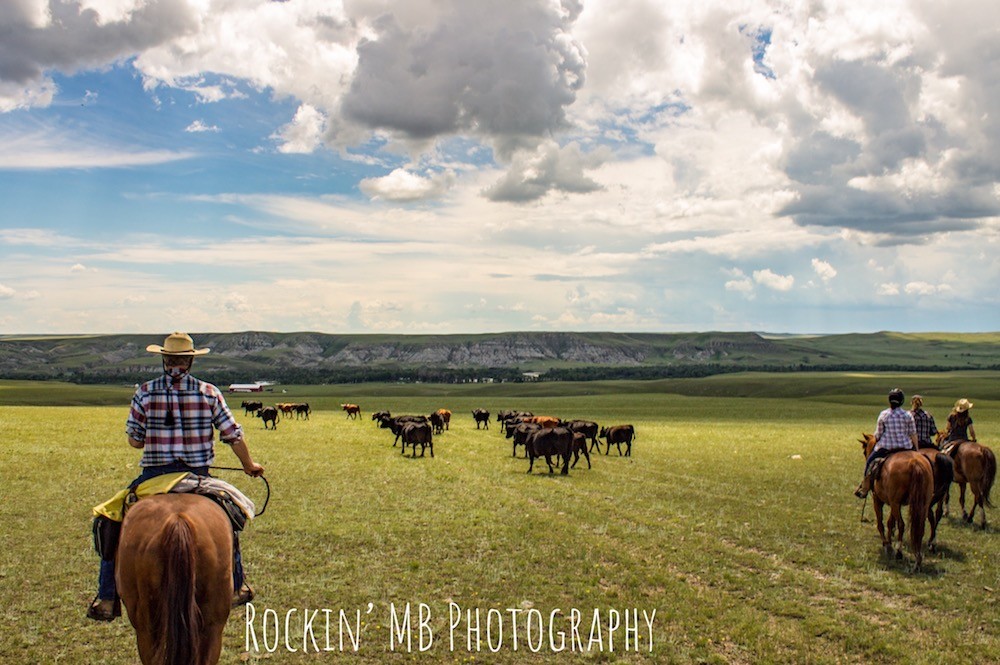 Our New Special Week: "Indian Summer October The Last Gather" also includes some cattle driving and more! Click here for more information.
Join the Bear Creek Ranch crew for a Montana cattle drive on some of the largest ranches in Glacier County, Montana, and be the cowboy or cowgirl you have always wanted to be! Bear Creek Guest Ranch will be your home away from home for the week as you take part in the yearly cattle drive and gathering of more than 1,000 head of cattle headed for summer or winter pasture.
We've been in the cattle drive business for more than twenty-five years and worked with the biggest and the
best outfits on the Blackfeet Reservation for that entire time. You'll be treated to a week of an authentic western tradition, moving the cattle onto the powerful and growing green grass on horseback under the shadow of the Front Range of the Rocky Mountains. This part of the West, most specifically on the land of the Blackfeet Nation, is still primitive and raw, far off the beaten path of the modern world we love to leave behind. You're going to see some of the most spectacular country on the planet and you'll be doing so on horseback.
One of the more underrated elements of a great horseback adventure are the folks you'll be meeting and working with on the job. You're going to be making some lifelong friends with other guests on the cattle drive but also with the gang running the show. You'll be riding and visiting with some of the best horse hands and cowboys anywhere. The Blackfeet Indians are wonderful folks, rich in culture and tradition, wrapped up in the history of this nation, full of joy, humor, and hospitality. Life doesn't get any better than a week right here.
Every day begins with a huge breakfast at Bear Creek Ranch. Lunch is normally on the trail and dinner is back at the ranch later in the evening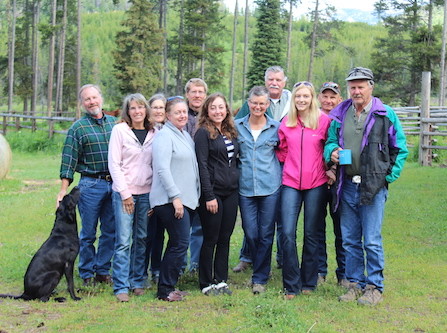 or even later as the days are long and if the moon is bright. Some days are longer than others! We'll be moving five different bunches of cattle from their winter ranges and on up into the foothills of the mountains. You'll be mounted on a horse that's part your choice and part ours, one that matches your ability and comfort level, a horse that suits you. All of our horses have some cow in them and several are rope savvy. If you care to rope on the trail or during branding day you're welcome to. Have at it
I'll tell you something in closing. We had one of the best weeks last Spring I've ever been witness to. We had some great folks with us and had a blast. We rode hard and well, laughed often and hard, got along like peas and carrots, and promised each other we'd do it again this year. So who knows, we might already be full. But what I'd do if I were you is give us a call when you have a few minutes and I'll answer any questions you might have and we can figure out if we're a good match for you. My number here is 406-226-4489. Love to talk to you. Bill Beck
Cost: $2495 per person or $4495 per couple after January 1st for the above cattle drive dates.
Suggested Clothing & Equipment List
Three changes of clothing
One warm coat
One parka
Two sweaters/fleece
Two sets of footwear
A pair of boots and a pair of camp shoes
Rain slicker
Hat and gloves
Flashlight
Toiletries
Weather will be cool in the morning, sunny during the day. In other words, perfection.
---
"The most astounding scenery on this continent. Absolutely breathtaking."
Bobby and Nancy Jackson, Alabama
"More Adventure and Greater Confidence Building than I ever expected!"
Henry and Brietta Ihling, NY
Testimonials
What an incredible week! Thank you so much. I will miss you. We definitely need a girls trip in the future!
- Darlyn Pickle, Summer, 2018
---
Thank you from the bottom of my heart for the very best Montana experience. You are the two nicest people with one dog, a comfy bed, amazing food every single meal, have fantastic horses, are authentic, and live in REAL Montana. Five stars!
- KimHempleman, Summer 2018.
---
Thank you so much for an amazing, loving time! I love you all.
- Bobbie, Summer, 2018
---
This was such an amazing experience! We knew we'd be riding horses every day and moving cattle, and I expected Montana to be beautiful and different. But there was so much more to experience and appreciate. Nancy has many conversations before the trip with Bill that helped us to prepare. Every detail was covered. Meeting you two, who have been so gracious, welcoming, and encouraging every day has been a blessing. The "group" of riders who stayed this week was amazing- it just "jelled," no matter the "horse expertise." The accommodations (cabins, comfy beds, etc.) and the FOOD!! were outstanding. Kristy is a "gem" who added to the hospitality, support, and encouragement with the horses and on every ride, and really paid attention to each person. We feel like we'd made some lifelong friends.
Obviously, Montana offers its' own beauty, variety, and history. But to meet the Johnson's was also a privilege and delight. We talked about all of this frequently during the week and we can't thank you enough. We gave a little extra to Kristy and this is for you. We hope to come back again. Thank you again.
- Nancy and Susan, Spring, 2018.
---
Horsemanship and You! A few things to ponder.
If you've taken the time to scroll into the above named title, "Horsemanship and You," then I suspect you're curious about that topic, and most specifically, how that might influence your train of thought as you prepare for your trip to the ranch. I've got a few things to say that you might find interesting and I hope you can bring your own set of thoughts and actions to your week on horseback.
After almost forty years of directing adventure vacations on horseback, those being big game hunts, cattle drives, trail rides, ropings, and arena events, I've observed, over time, some subtle changes in the way we envision our use of horses in this ever more modern world we live in. Years ago, we didn't pay real close attention to many of the finer forms of horsemanship that I'd like to think we do today. We know a whole lot more about horses and horsemanship, we feed better, our vet skills are advanced, and we've evolved towards a higher standard of care than we did in years past. But something is missing. I hadn't really been able to put my finger on exactly what that was but lately it's begun to come to me. Certainly, you've heard the expression "it's on my bucket list."
Many of the folks I talk to on the phone comment that our cattle drives, or our Off the Beaten Path horseback trip, as an example, is on their "bucket list." At first blush, I get it. And I'm grateful for the call and the interest, believe me. On second blush, or perhaps after their arrival at our ranch, and after 10 hours in the saddle, I also get it when I sense that there wasn't a whole lot of thought and preparation for the reality of being horseback in the very real world of the great but at times, difficult world of the outdoors. In other words, a really good weeklong trip into the back of beyond ain't just a bucket filler! I think, in a nutshell, we've got to remind ourselves, that the horses we ride aren't beasts of burden. Yes, I know we're on their backs and we're traveling some pretty significant distances using their power and energy to fulfill our real life fantasies. Nothing wrong with that. BUT, we've got to do so as partners with our horses. Hell, they don't know anything about bucket lists. If we can bring ourselves to "partner up" with the mount that we'll be riding day in and day out then we're really getting somewhere. If I were directing a Carnival Cruise in the Mediterranean we wouldn't be having this conversation. In the horse world we WANT to be mentally and physically prepared to be a partner. In reality that means we WANT to be riding. We want to make the trip you've signed up for real good, for the both you and that fine animal you're going with.
I recognize that I may be getting a bit too existential but I WANT you to really want to ride. I hope that you can get in real good physical and mental readiness for your horseback trip in some of the best country you will ever see. I WANT you to be able to ride lightly in the saddle, right over the center of that horses' back, and with a light hand, being able to get maximum performance with minimal effort. That'll make you happy and your horse as well.
Hey, I've thrown a whole lot at you here. And by the way, I don't doubt that you may be shaking your heads and wondering where I'm coming from. So on that note I want you to feel free to message or call me any time. I'd be more than happy to have a discussion about horsemanship and your trip here. If we can't talk about it we might not do it. And that's the bottom line.
Hope you're doing well and looking forward to visiting with you.
My best,
Bill