About Us
If you seek the vacation of your lifetime, you've come to the right place!
Bear Creek Guest Ranch was built at its current location in 1933 on the former home site of McCarthyville - a temporary rough and tumble railroad town which is now along the southern border of Glacier National Park. And it is said, and I believe it to be true, that Charlie Russell spent more than a little time in the camp saloon, enjoying a drink, and socializing with the locals until his wife would send word to get home!
The ranch was originally created for hosting fall hunters and summer guests. Back in the day, Highway 2 was still a dirt road running through the mountains, connecting the east and west sides of the Rockies. Over a period of time and, certainly, with the increased visibility and popularity of Glacier National Park, Bear Creek Ranch began to attract a diverse clientele. In 2015 guests from the past four decades revisited the ranch, along with the great-grandson of Charlie Russell, Alan M. Hansen! Bill and Diana, along with their son Dusty, the current owners, have more than forty years in the outdoor adventure and guest ranch business, beginning an era at the ranch that includes:
Montana Cabin Rentals - right next to Glacier National Park!
Montana Horseback Riding Adventures - Half Day and Full Day
Horsemanship Clinics
Riding Lessons
Montana Cattle Drives
Roping
Arena Riding
Hiking in Glacier National Park
Fishing in Glacier National Park
Wildlife Tours
Guided Day Trips
Float Trips
and a Bed and Breakfast program at the ranch second to none
Most visitors to Bear Creek Guest Ranch are here to spend three or more days in an authentic ranch atmosphere. Guests generally are interested in seeing Glacier National Park in addition taking part in the many "adventure" activities that we offer. Those activities are primarily horse oriented and include horseback riding lessons, clinics, and "seeing the country on the back of a horse." There is no better place to ride than out in the open country with the Rocky Mountains in the background.

That's Bill Beck, the ranch manager since 1980
From Regina Perkins, November, 2018
"There are no words to describe the happiness given to me this week. It was like serendipity, everything came together. You took my final dream, an older woman, and you made it possible. It was the best week. You found the best horse for me, Freckles. After fifty years of riding thoroughbreds I never would have imagined doing as well as I did with him. I have been so happy this past week. So happy. My expectation was that we'd have cowboys. But they are more than what you think they may be. They are renaissance cowboys. They know the land, the cattle, the horses, and the people. There was something about the spirit the entire week. It's the gentleness of the spirit you guys radiated to us. There was a spiritual quality to the whole trip. And this trip was full of laughter. I haven't laughed like that in a long time."
Taken from my notes in December 2018, Bill Beck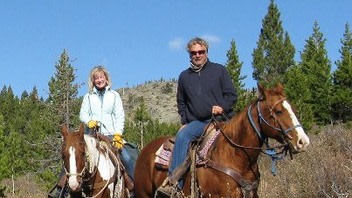 Bill and Diana Beck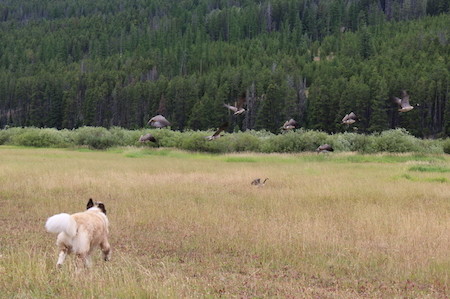 Tonka, Ranch Dog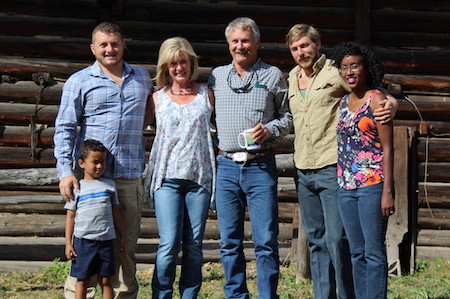 The Beck Family
"Our home becomes your home during your stay and we wouldn't want it any other way." From the moment you arrive, we'll greet you and make you feel like you are a part of our family! You'll stay in one of our cabin rentals or in the lodge itself. In addition to that, you have access to the property, including most of the lodge, the pastures, Bear Creek, the riding arena, tack room and the corrals. Our ranch is "guest friendly" as are we!
We will make you feel comfortable and welcome while adventuring in Montana.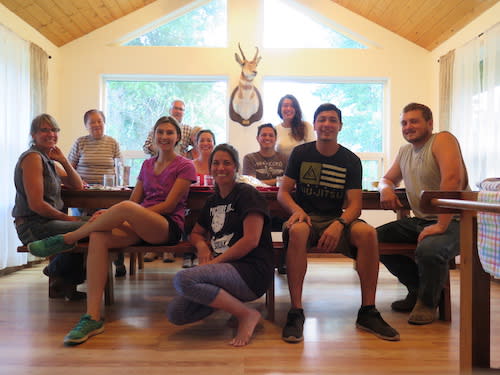 End of week with great guests