Bed & Breakfast Montana
You are welcome here from the moment you step in the door!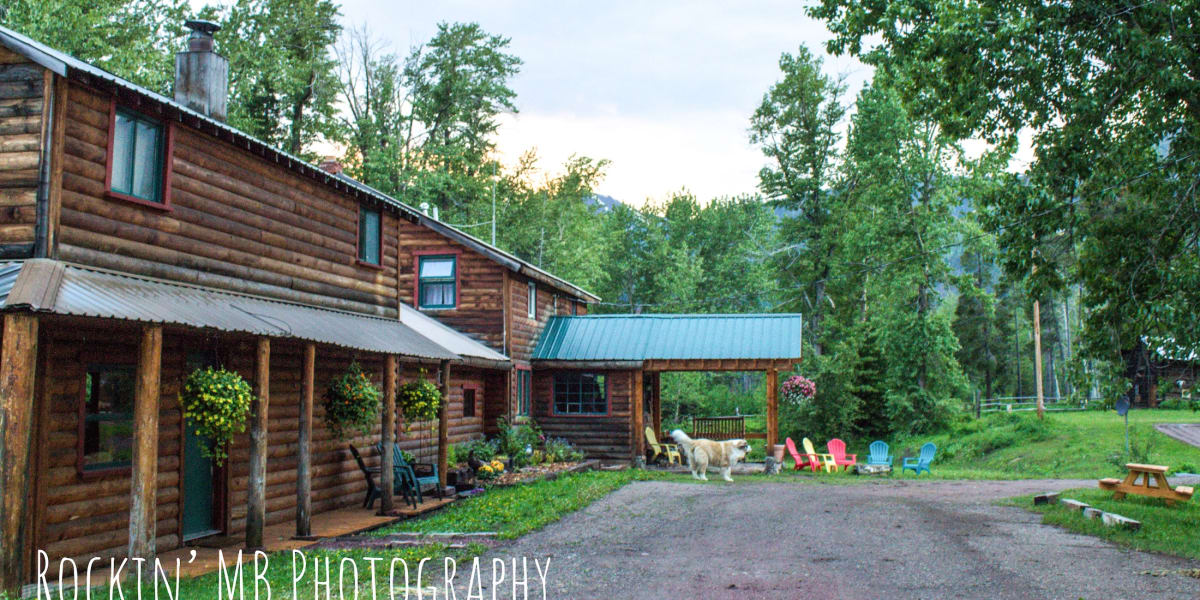 Bed and Breakfast at Bear Creek Guest Ranch!
We want you to expect so much more than the words "Bed & Breakfast! As the name implies, we are also a fully functioning Guest Ranch. Which means when you stay with us, you can take advantage of ALL we have to offer. In addition, you will be part of, and will enjoy, feeling the genuine nature of western hospitality, and culture .
We welcome you to stay in one of our 5 cabins during your visit. Each cabin is uniquely different and separated from the others, so you are ensured your privacy and comfort during your stay. Breakfast is "by Diana" and served in the Sun Room of the main lodge every morning at 830. Coffee is on at 7, so if you're an early riser come on over and grab a cup!
Our Property: While staying at the ranch we like to emphasize that our home is your home too, so we encourage guests to take advantage of the entire property. Whether it's checking out the horses at the corral, taking a walk in the back pasture in the evening, going for a quick hike into Glacier National Park, or even sitting down and shooting the breeze with us, the place is yours to explore. In addition, the main lodge is also open for anyone to come in at anytime between 7 a.m. and 10 p.m. We have a pool table, library, games and a reading area, so come on in and enjoy yourself!
Location: We are located just off of highway 2 between East and West Glacier at mile marker 192 and are ideally placed for those interested in seeing Glacier National Park, the Blackfeet Indian Reservation or the Bob Marshal Wilderness. In addition, we are just 55 minutes from Glacier International Airport, where car rentals are available.
Additional Ammentities: Did we mention that we offer horseback rides for those interested? Just let us know and we can set up a ride right away!
We pride ourselves on our hospitality so you can expect us to be waiting for you at the main lodge when you arrive, "We like to say you arrive as strangers but leave as friends." If you have any questions, comments, or concerns, please feel free to reach out to us any time via email or phone (406-226-4489). We'd love to hear from you.
Bed and Breakfast Rates: $269 per couple per day and $40 each additional person. Montana state taxes are applied.
A one night's deposit is required at the time of reservation and can be easily completed over the phone. Two-night minimum stay is preferred for our Bed and Breakfast option, but not required. Pets are welcome upon request and with prior approval.
Horseback riding lessons and horseback riding adventures are available upon request at Bear Creek Ranch. Fishing trips, Glacier National Park tours, and float trip reservations can be made through Bill or Diana.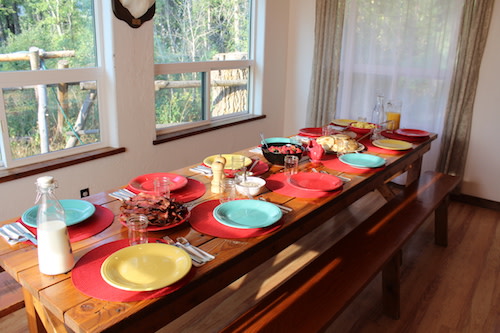 Breakfast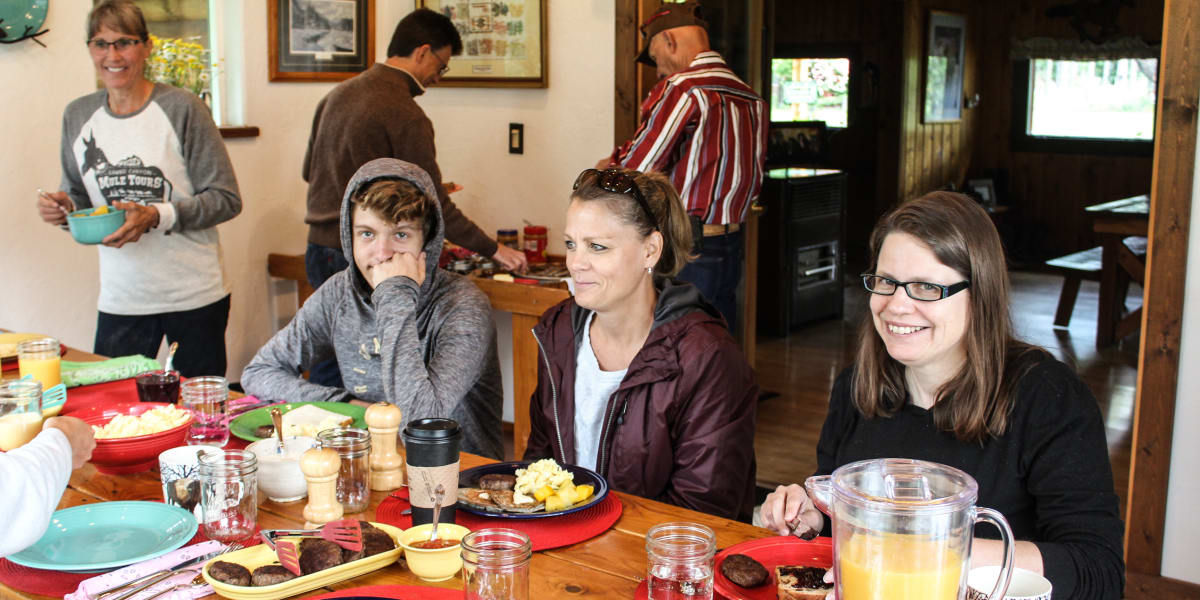 Breakfast, by Diana, is served hot every morning, usually in the Sunroom, which has a wonderful morning view of Bear Creek and the Great Bear Wilderness. What a fabulous way to wake up and begin the day! Coffee's always on, so help yourself anytime. We understand that you may have special dietary needs and we can accommodate those as long as we have advance notice. Breakfast varies each day but will consist of a mix each day of the following:
Eggs
Pancakes
Bacon
Sausage
Toast
Bagels
Fresh Fruit
Cereal or oatmeal
Home Made Crepes
Breakfast sandwiches or burritos
French Toast
Juice, Milk and Tea
Home Fries or Hashbrowns
Lodge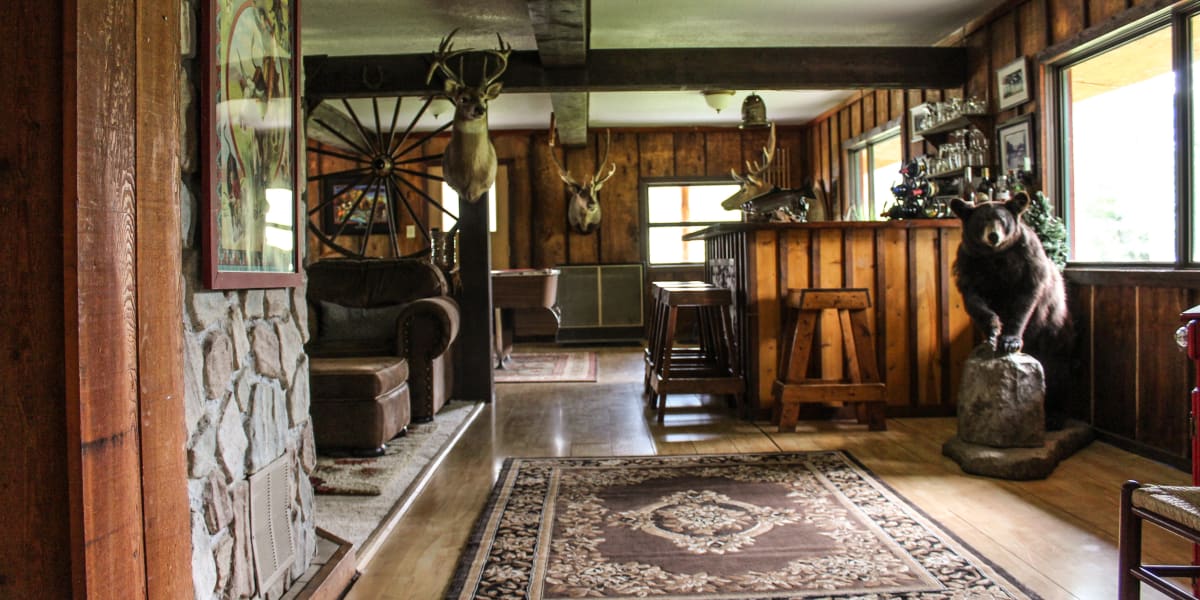 The lodge is the main house where we serve breakfast each morning. It's a place to be comfortable and enjoy yourself and you're welcome here anytime you like. Here you'll find:
Conversation areas
A wood burning fireplace
A library full of books in all genres, for all ages, including lots of children's books
A bar (bring your own drinks - we provide the bar and barware)
Television and DVDs (but you won't spend much time there!)
Board Games, card games, and puzzles
Pool Table
There are trophies from hunts gone by, and history on every wall
WiFi when it's beamed up!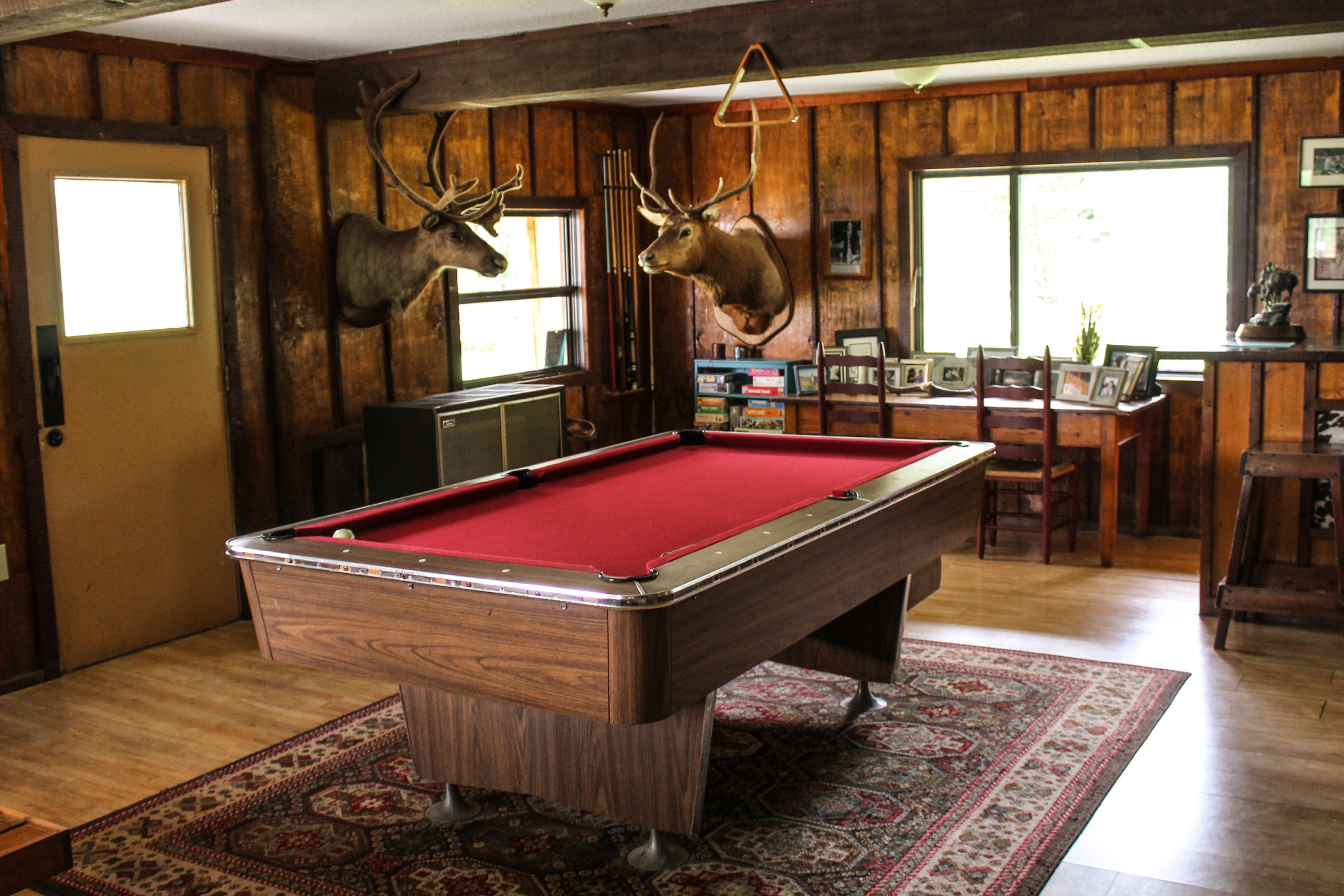 Lunch & Dinner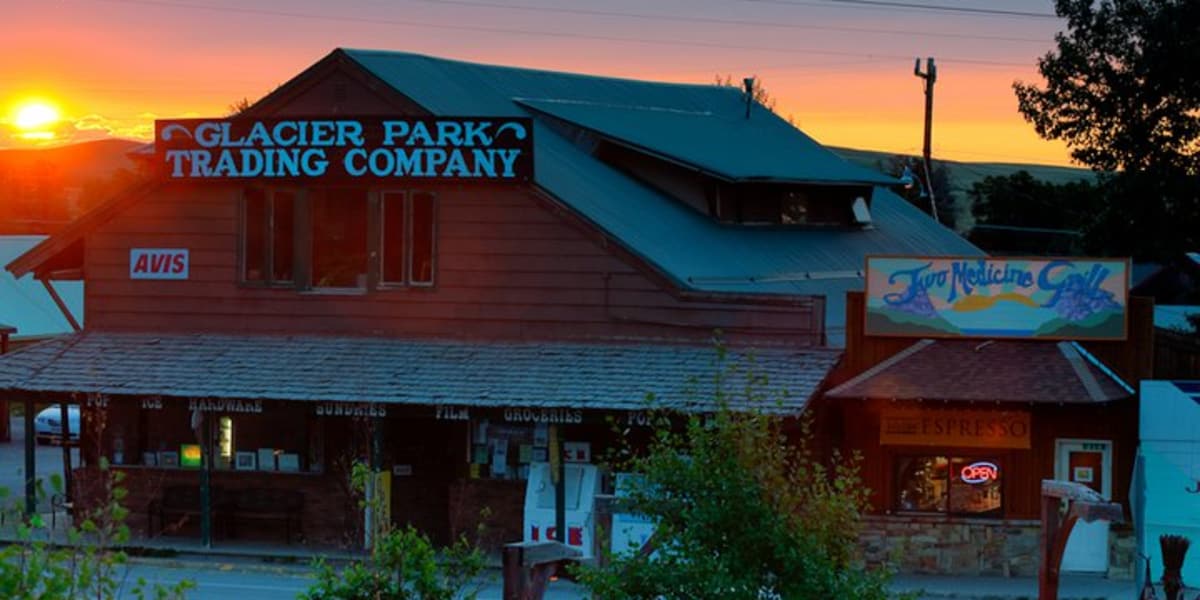 ** We don't serve lunch or dinner at Bear Creek Ranch but here is a list of local area restaurants for you to enjoy**
Snow Slip (one mile west of the ranch on Hwy. 2 - year round). Tell Bill we sent you!
Izaak Walton Inn (13 miles west on Hwy. 2 in Essex - year round). Finer dining just down the road.
Firebrand Food & Ale (about 15 miles east of the ranch on Hwy. 2 - year round). A local mainstay!
Bison Creek (about 12 miles east of the ranch on Hwy. 2 - seasonal)
Two Medicine Grill (downtown East Glacier - year round). Check them out for "to go" sandwiches for your park adventure!
Serranos Mexican Restaurant (downtown East Glacier - seasonal)
East Glacier Lodge Restaurant (downtown East Glacier- seasonal)
Whistle Stop (downtown East Glacier - seasonal)