---
Adventure Vacations at Bear Creek Guest Ranch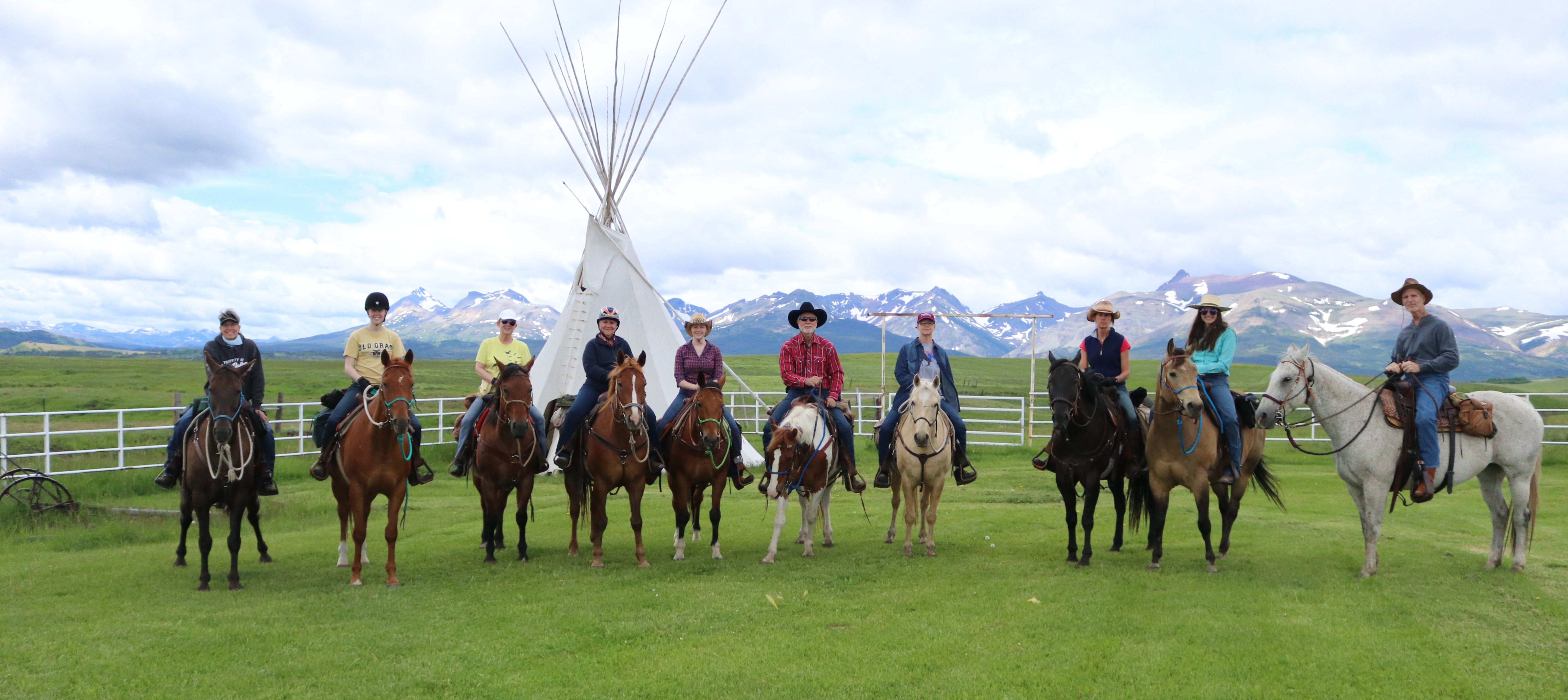 Our world is always changing, but not "as much" here at Bear Creek Ranch! We do have some limited wi-fi access but no cell phone service. How do you like that? You may see elk or deer, or even an occasional bear, on the property from your cabin window. And you will see a bunch of horses! "Horses are a huge part of our identity, our being, our lives." We really hope you can join us in that enjoyment, whether it be on a day-long ride, cattle drive, or simply care for them in our barn or corral.
"We do everything that we can to maintain the authentic Western way of life, even in the ever-changing, fast-paced world of the present. When life slows down, you slow down - cell phones are forgotten. The sky is bigger, the plains more vast, the mountains are higher and the air is more clear. And you'll appreciate it all!"
We'll take care of the details - you can just show up and enjoy yourself. When you arrive at the ranch for your Montana horseback riding adventure, you will feel welcome and right at home. We offer full day horseback rides and do so in small groups and have four week-long horseback riding adventures, 'Riding the Four Winds' and 'Off the Beaten Path' in addition to cattle drives in the Fall and Spring, something for horseback riders of all levels! Those week-long trips are described if you click on them below. Love to have you join us.
Each horseback riding vacation event specializes in something different but they all have adventure and fun in common. These horseback vacations are like nothing else you have ever experienced and you will have amazing memories and stories to take home with you. Along with learned knowledge and a new found appreciation for the western way of life!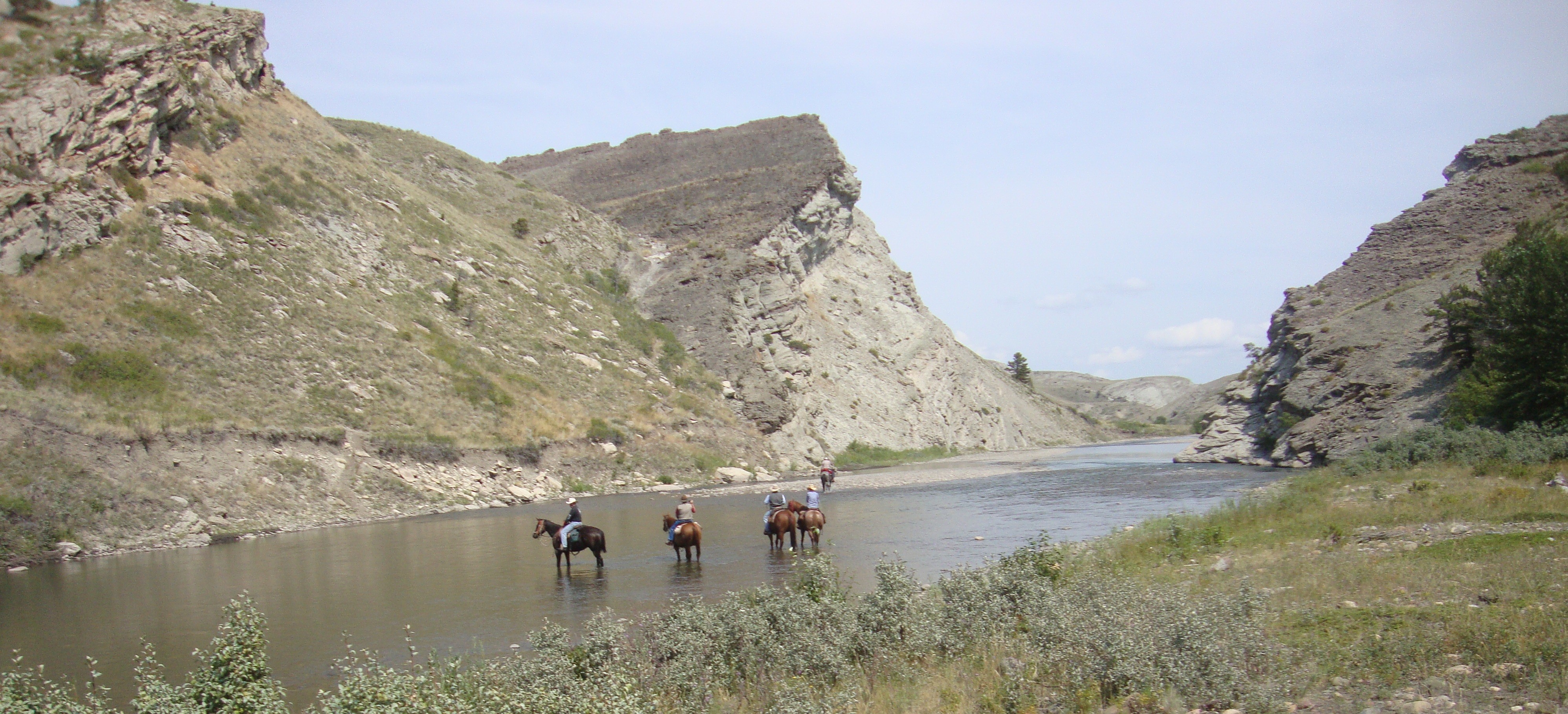 SPECIAL EVENT! First Annual "Women in the Modern West: Strength and Identity." The role of the horse in the Western Way of Life influenced by Native American spirituality and true grit. Three days and three nights of riding, horsemanship, and camaraderie with cabin accommodations and three meals a day to die for. Call today at 406-226-4489 to book your spot for the event of the summer.
Featuring Jimi Champ, Fourth generation educator, rancher, multiple finalist at the Indian National Finals Rodeo, Masters in Education and Masters in Library Science, wife and mother and Proud Native American. Other speakers and guests include ranchers and Hollywood stuntmen and actors Dutch Lunak, Scotty Augare, Ray Champ, and Megan Lunak, herself, an accomplished horsewoman, educator and Blackfeet language speaker..
"Strong is what happens when you run out of weak..... finding your inner strength through horses." Jimi Champ

Come and immerse yourself in the Montana way of life and share in a bit of real American history. This part of the country truly sets northwestern Montana apart from any place you have ever or will ever visit. From our week-long horseback vacations to cattle drives to horseback day trips, see why the people who have visited Bear Creek Ranch return again and again!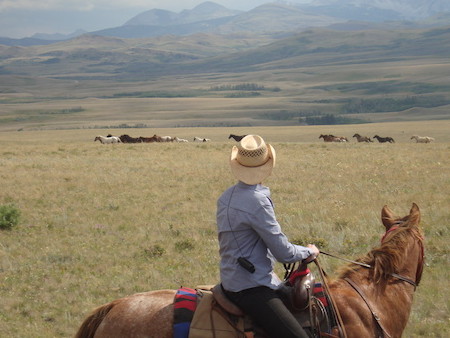 Spring Celebration
Cowboying and the Western Way of Life
Dates: Sunday, May 19 - Saturday, May 25, 2019
"Thank you for helping us add THE best vacation/bonding to our life. We feel like we are leaving our home. We look forward to having you as part of our extended family for the years to come." -The Frank Giron Family, Spring, 2018.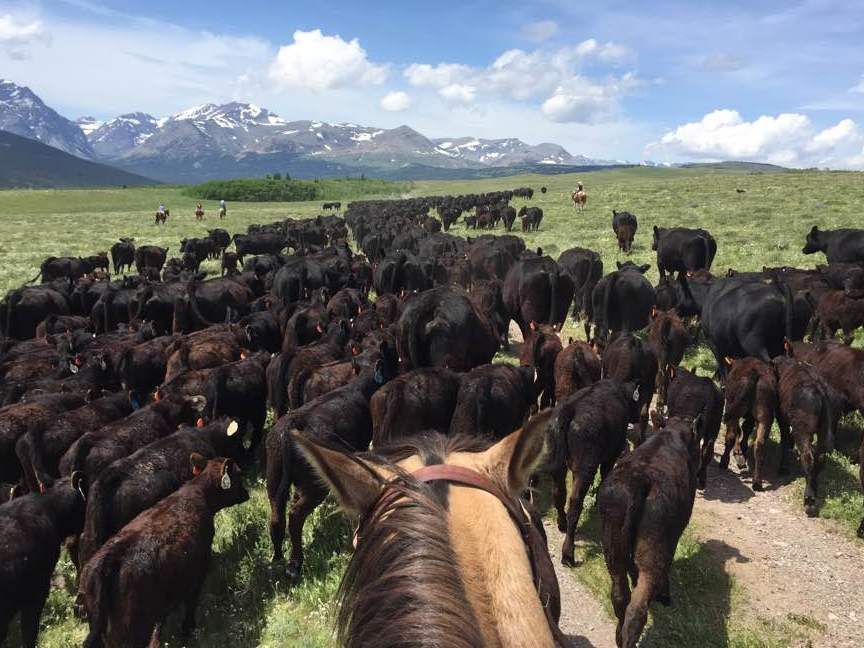 The Week of a Lifetime
Over the course of many years we've put together adventure vacation weeks in a variety of locations and with different themes. Well, over the past year we've developed and put the finishing touches on a week long trip that tops 'em all. And in fact, we did a rehearsal trip this past year and ironed out the wrinkles!
Beginning on Sunday, May 19th, Bear Creek Ranch is offering to ten special guests, the 2nd annual Spring Celebration, "Cowboying and the Western Way of Life".
Spring is that time of year in the West when so many of the grandest traditions of rural life take place and are celebrated with neighborly joy and cooperation. The country is just beginning to recover after a long, cold winter and the grass is greening up in the coulees and valleys. Horses are shedding out and slicking up, the cattle are content with calves on their sides, but there's work to be done!
For six days in May, you'll be taking part in every piece of western ranch life! You'll be riding amazing horses, working cow-calf pairs, roping, branding, castrating, and gathering bunches of cattle and moving them to summer pastures. And you'll be doing so under the heart of the Backbone of the World, the Rocky Mountain front.
As always, attention is paid to horsemanship. We're always wanting and willing to give close attention to how we treat and ride the horses that we're so dependent upon, and who are, as well, dependent upon us. The close relationship we have with our horses is shared by everyone. We don't get very far without 'em. You'll be matched with and riding one of our well trained ranch horses. They all have their own style, some with a bit more juice than others, some a bit more laid back, but good to go for you! We'll all be sharing our styles and thoughts about horsemanship. Everyone does it differently but we all have more than a few areas in common. Take care of them and they'll take care of you!
Ride, Rope, and Brand
Our typical day will start with breakfast at the ranch and then we'll saddle up and trailer the horses to the location of the day. We might be at Bear Creek Ranch in the morning and at the Lunak-Champ ranch in the afternoon. In any case, we'll be horseback a good part of day or working cattle on foot after gathering.
One of the highlights of your week will be the folks you meet at Bear Creek Ranch and the good neighbors you'll meet and spend days with during the course of the week. There is no better way to get to know someone than to develop a friendship while riding a good horse in big, sunlit, wide open country. I've seen it work like magic so many times in my long history in the guest ranch business.
"There are wooden ships, there are sailing ships, there are ships that sail the sea. But the best ships are friendships, and may they always be." Irish Proverb quoted at the funeral services of George H.W. Bush
You're going to love "Cowboying and the Western Way of Life" like no other week you've ever spent.
Here's to seeing you this Spring.
Bill and Diana Beck, December, 2018
Cost: $2495 per person, $4695 per couple, all inclusive.
Off the Beaten Path
Our Featured Horseback Vacation for Summer 2019!
Dates: Sunday, July 14 - Saturday, July 20, 2019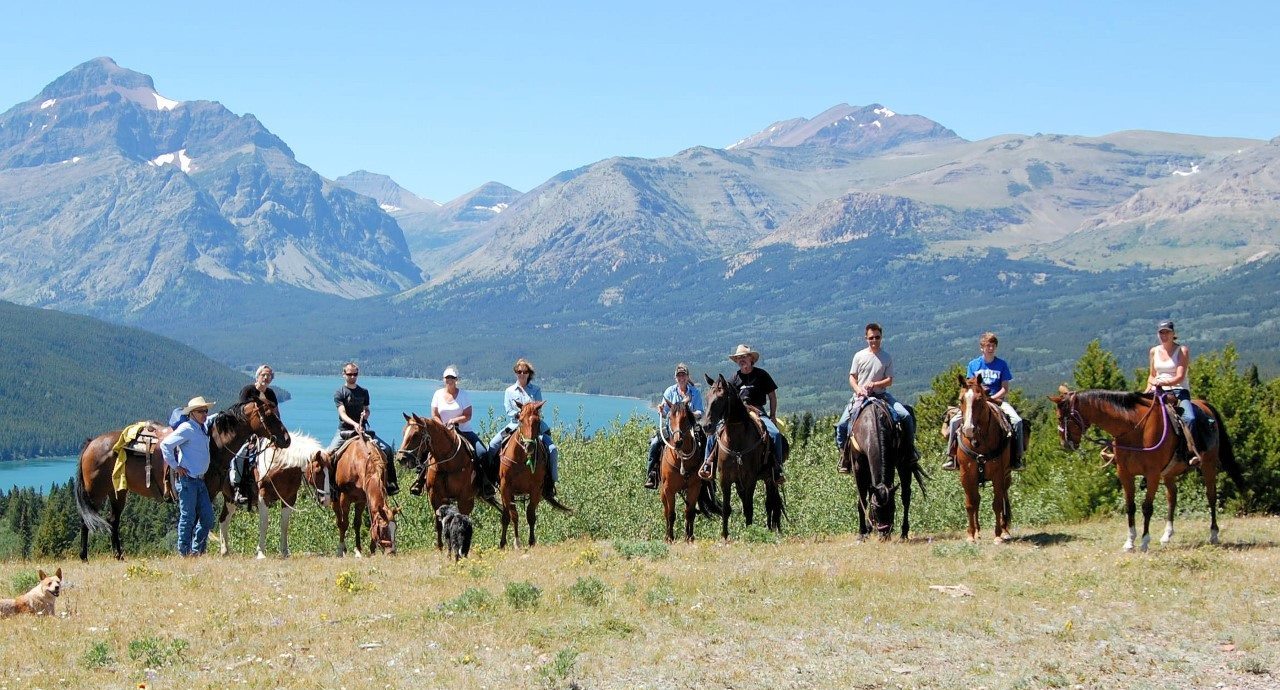 Finally, we've put the finishing touches on an elite horseback adventure that has become one of the most in demand year after year. We'll be riding this coming July, 2019 from the Heart Butte country north almost to the Canadian border. "Off the Beaten Path" says a whole lot! You're going to see some of the most spectacular country in North America. The "Backbone of the World," as the Blackfeet call it.
You'll be horseback and exploring and enjoying the same country the boys from the adventure trip "Unbranded" rode through on their way from Mexico to Canada. Elegant cabin accommodations at night, dinners by "Diana," and unparalleled beauty all and every day.
Arrival Sunday, July 14th in the afternoon. Departure Saturday, July 20th, noon
Transportation to and from Kalispell, Intl. airport.
All meals, cabins, and horses included.
Dinner at one of the areas local restaurants after a day or riding adjacent to the Canadian border.
Limited to 12 special guests.
A group discount is available.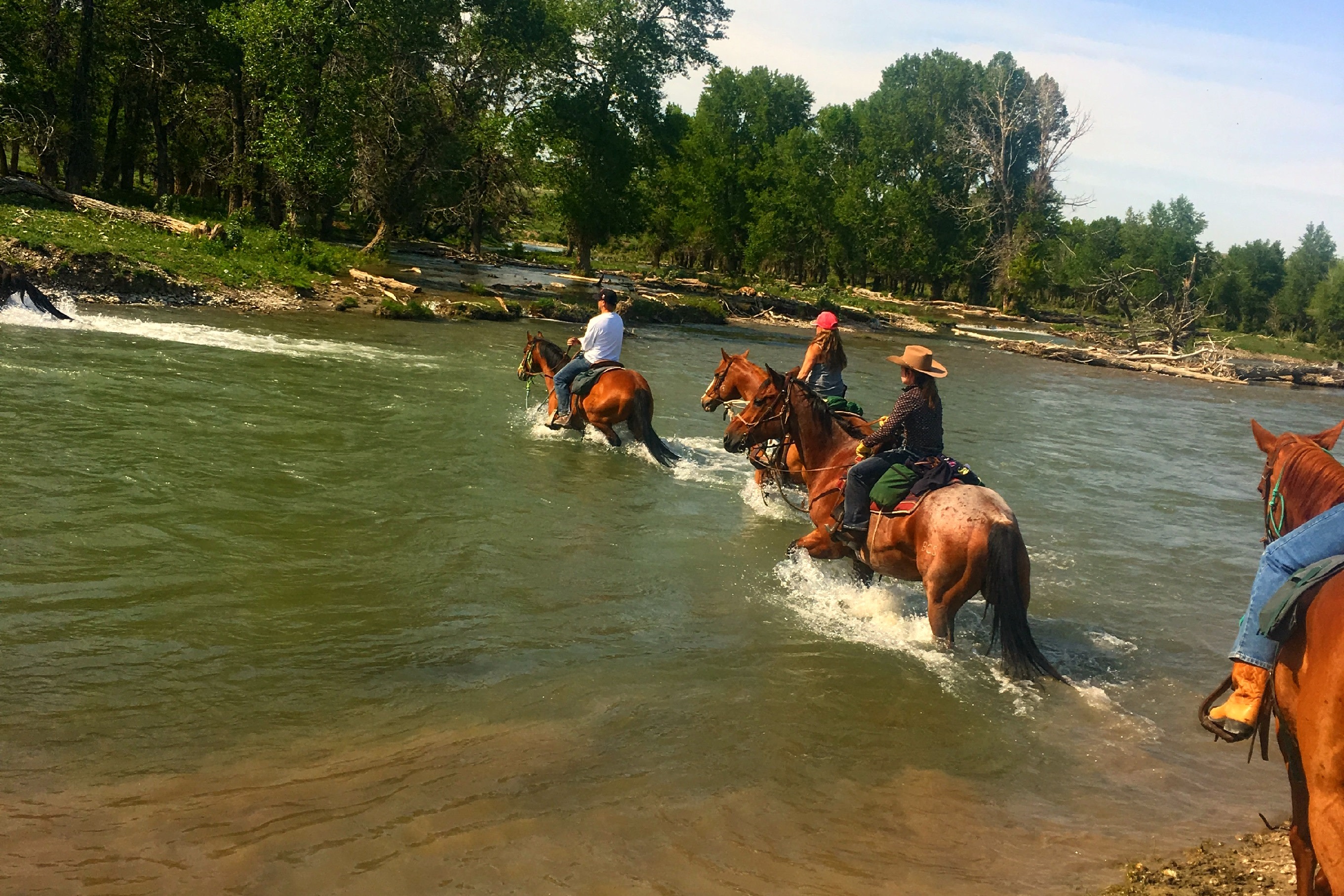 We're crossing Badger Creek in the above photo. We'll be accompanied by the Johnson family, members of the Blackfeet Nation as we explore the ranch country and do a ride through an age old "Pishkun" or buffalo jump. The bones from thousands of years of buffalo drives rest in the cliffs above Badger Creek. Takes you back!
On occasion, you may find yourself riding with only you and your thoughts for company. The mountains are off in the distance and the clarity of the day is a bit cloudy due to early season forest fires to the west. "The fires always have been and always will be."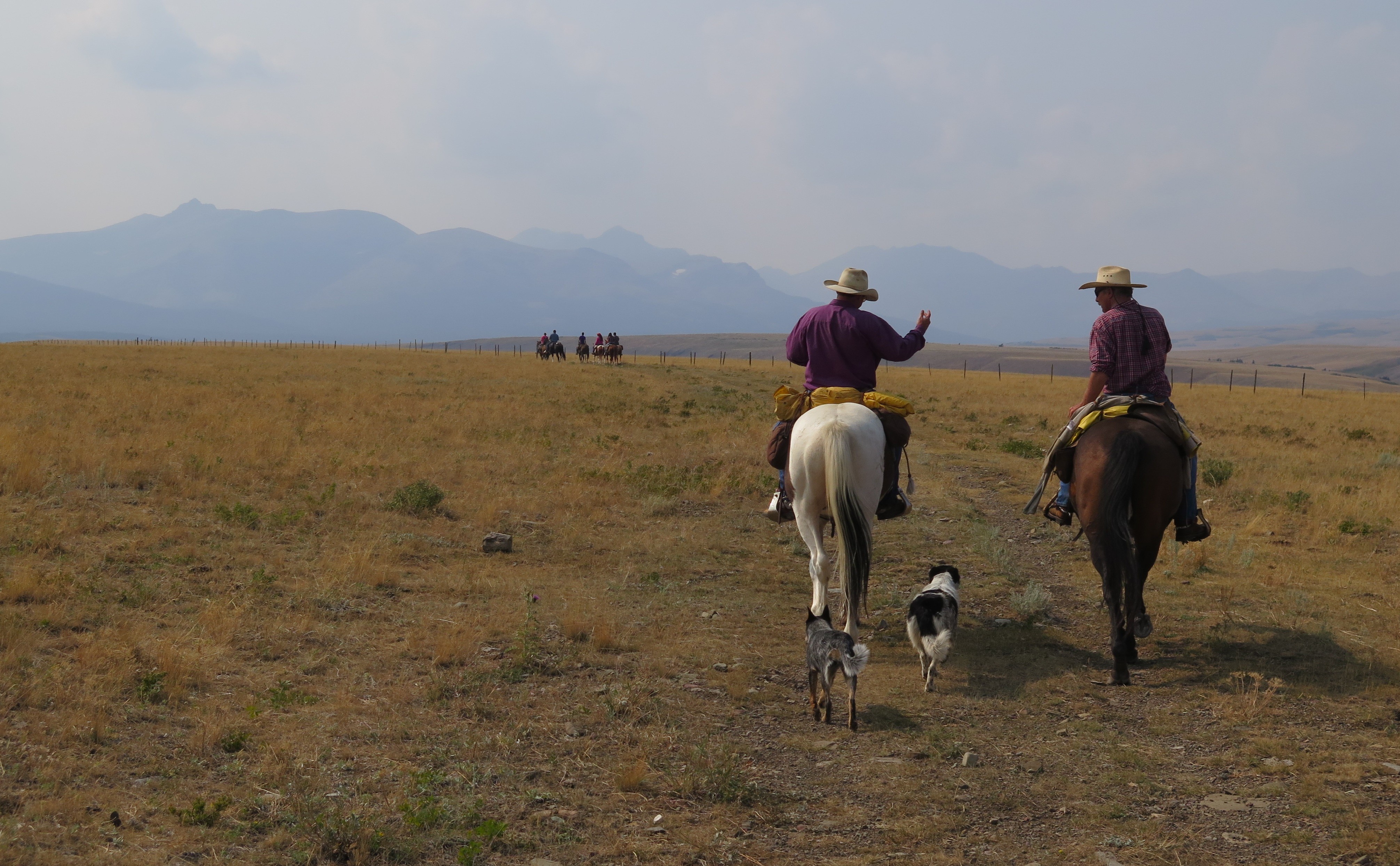 "We're putting everything we know how to do into this very special horseback riding vacation. No one does it as well. The Off the Beaten Path week at Bear Creek Ranch combines the best in those qualities that make your horseback vacation trip unforgettable, and "Unbranded."
Cost: $2495 per person, $4695 per couple, all inclusive.
*Group rates are available upon request.
September Horseback in Glacier Country
Our featured Fall horseback vacation for 2019!
Dates: Sunday, September 15 - Saturday, September 21, 2019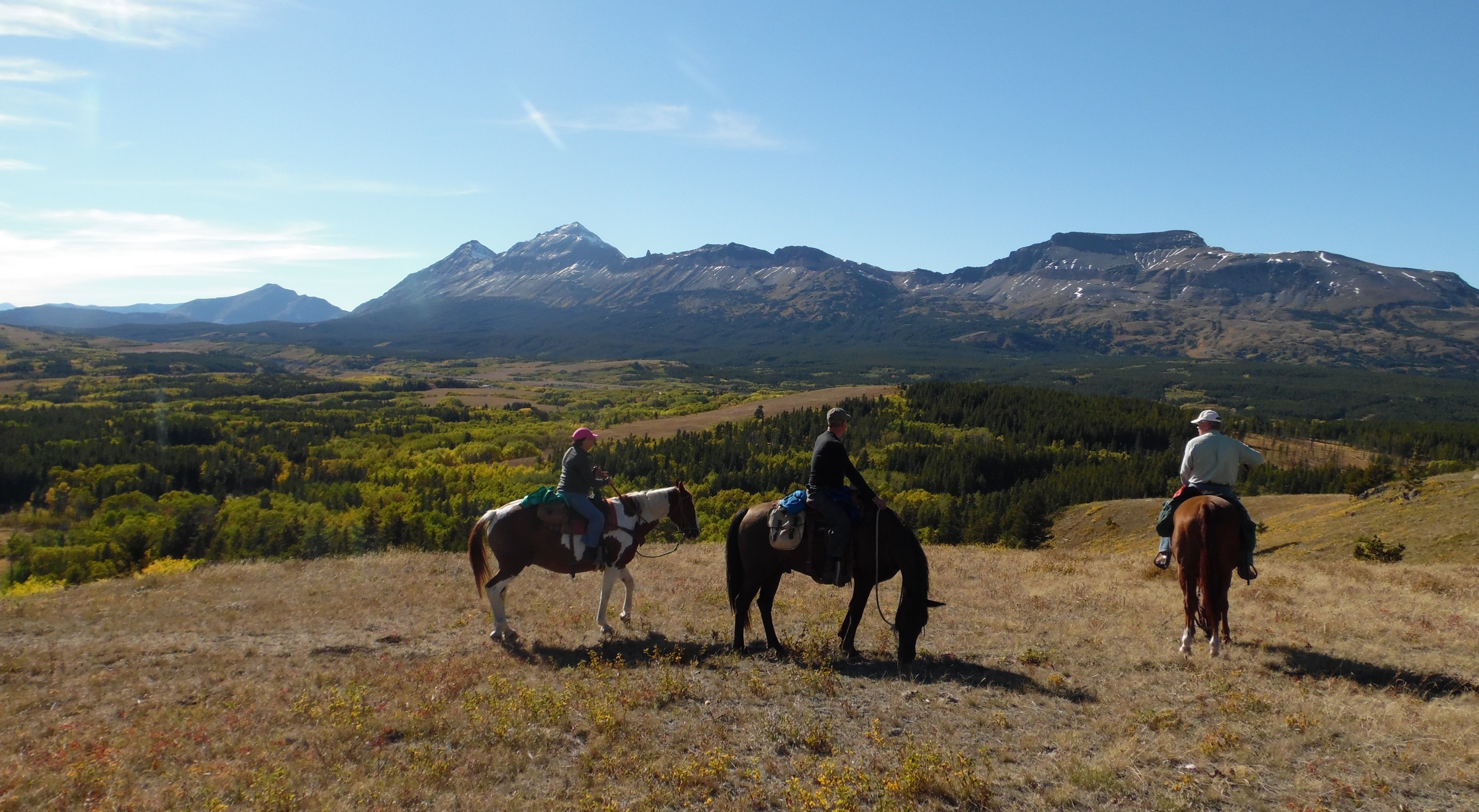 I've been asked on numerous occasions about horseback vacations during the precious fall days of September. Those quiet days of fall, after a louder, busier summer, and a month or more before the country gets cold and snow beckons. September is a beautiful time of year, in Glacier country. The cottonwood and aspen leaves are yellow and the berry bushes turn crimson. The country is quiet, peaceful, and in a period of rest and anticipation of the tough winter ahead. Mid-September is a great time to be horseback in Glacier country. The weather is normally sunny and warm during the day, free of mud and bugs, and cool enough to keep our horses on the go.
" I couldn't imagine the country being any more beautiful than what I saw. The colors were spectacular and the weather was cool and dry. Couldn't have been any better."
We'll be offering a horseback adventure vacation to take advantage of those special September days this year, 2019. For those of you interested we're going to be offering "Glacier Country on Horseback" beginning on Sunday, September 15th and running until Saturday, September 21st, at Bear Creek Ranch. Similar in style to our "Off the Beaten Path" trip offered in July we're going to riding in sections of the countryside that are beautiful beyond belief, are rarely visited, and offer as much color contrast as the country has to offer. You'll be riding in some of the best "stuff" I know.

We'll be limiting this trip to eight guests and are guessing that most everyone will be an adult with some riding experience. If you're not particularly horse savvy we'll put you on an easy horse and you'll do just fine. On this trip, we're not going to put on the big miles that we're more likely to do during the summer months. We're going to ride easily and with lots of stops in just the right places to rest, photograph, eat lunch, and with any luck, watch a grizzly eating berries! You'll be home each evening to the ranch before a wonderful dinner served by your hostess and my wife Diana. There's nothing like an evening at Bear Creek Ranch, enjoying a glass of wine and visiting with your new friends. Our cabins are clean and cozy and you'll be sure to get a great night's sleep.
Guests will be arriving at Bear Creek Ranch on the 15th of September. We'll spend the afternoon getting to know one another, exchanging past horseback experiences, picking out suitable horses and saddles, having a great dinner, and looking forward to the first ride the following morning. I've got five great day rides in mind for the week and some thoughts about what you might enjoy doing during mid-week if you're wanting a day off horseback. There are tours of Glacier National Park available, float and/or guided fishing trips on the Flathead River, exploring the Blackfeet Reservation by vehicle, or simply enjoying the day around the ranch, having lunch in the sun or reading a good book under the blue Big Sky of Montana!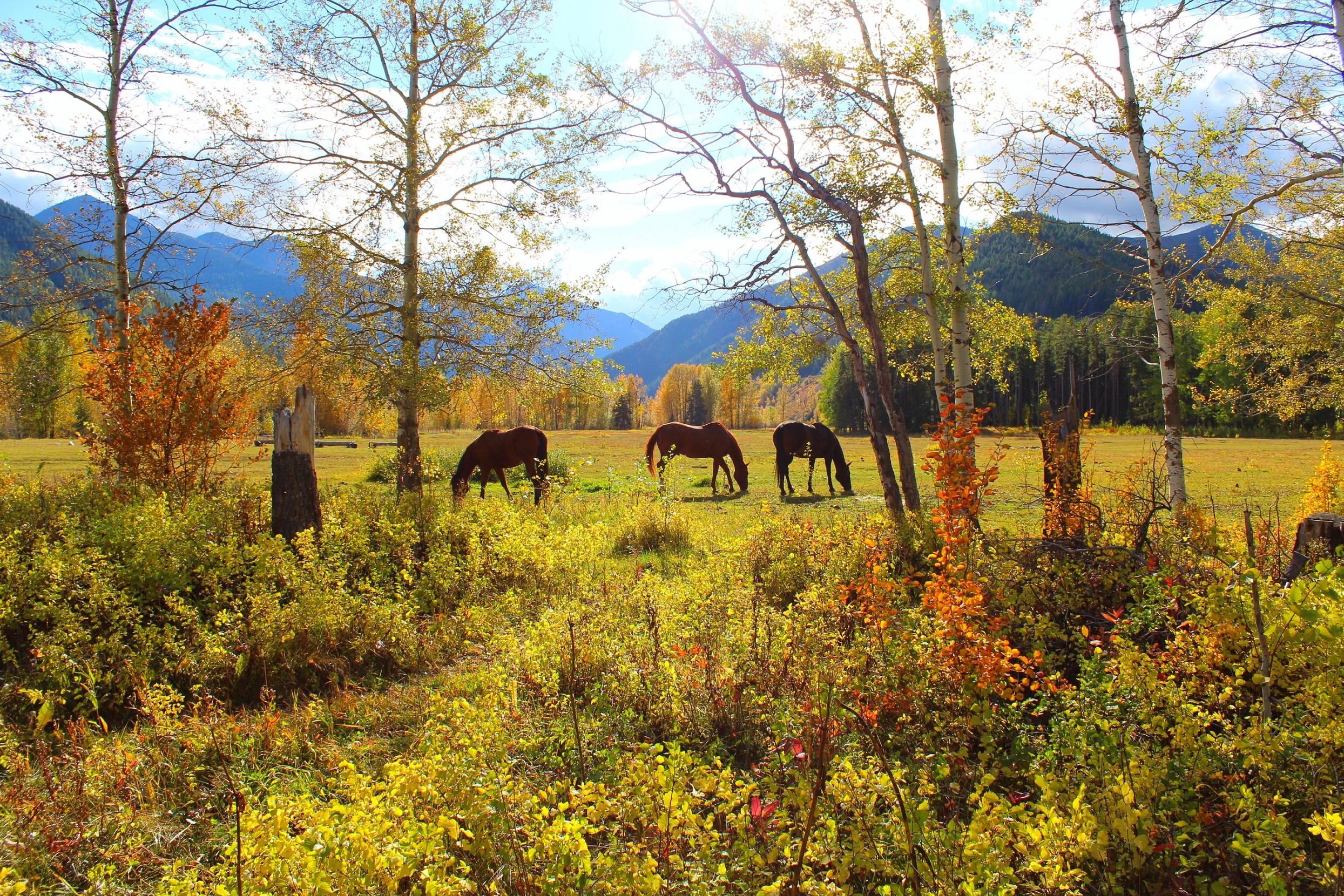 The cost of the September "Glacier Country on Horseback" is $2295 per person or $3995 per couple all inclusive. Choice of cabins come on a first come basis.
What I might recommend when you have a few minutes is to feel free to give a call out here and go over any questions or thoughts you'll have about the "Glacier Country on Horseback" trip. We're normally near a phone and would love to talk to you. That number is (406) 226-4489.
All our best to you and with any luck we'll see you in the fall.
Bill and Diana Beck
Cost: $2295 per person, $3995 per couple.
*Group rates are available upon request.
Indian Summer October
The Last Gather
Dates: Sunday, October 20 - Saturday, October 26, 2019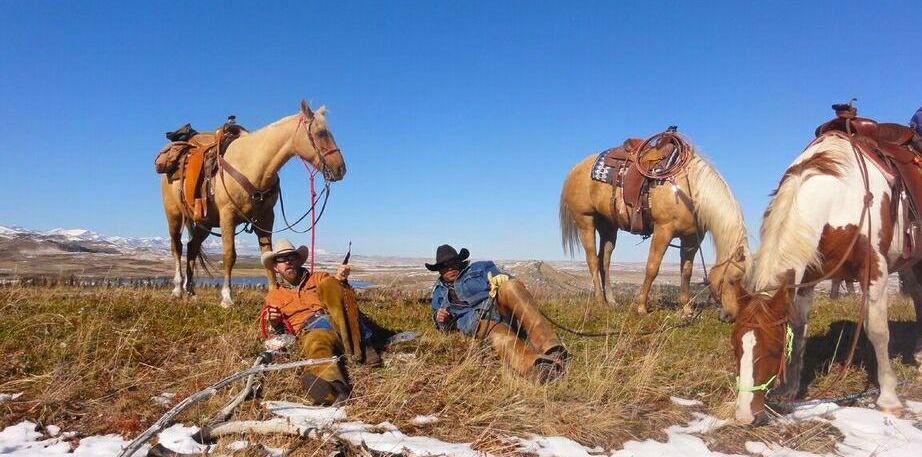 One of our Best Trips!
During the course of our trip this past season, as shown in the accompanying photos, I spent quite a bit of time riding and visiting with one of the owners of the cattle we were gathering, Ray Champ. Ray is one of the states' most accomplished rodeo announcers and in addition, raises quarter horses and cattle as well. He matches my enthusiasm for the guest business while at the same time is always looking for ways to spend his time horseback. One can be in Ray's company for five minutes and feel the infectious energy he has for riding and getting to know complete strangers. You'll see what I mean next fall!
We'll be joining forces with Ray and his family and spending the later October days gathering and moving their herd from the Mitten Lake Country on the Blackfeet Reservation , some of the most awesome country you'll ever have the pleasure of riding in, out of the mountains and foothill country, and taking them east .
This trip begins with your arrival at Bear Creek Ranch by plane to Kalispell or driving directly to the ranch just west of East Glacier. Arrive that Sunday by mid-afternoon, get settled in your cabin, meet myself and Diana, Ray, and the crew, and we'll be off to the barn and arena and will begin matching you to the right horse for the week. This trip, in particular, will require some good riding right out of the gate! On Monday we'll begin gathering the Mitten Lake herd and will slowly but surely be moving them all in the right direction! At times, you will want to get after a stubborn cow or calf, or a bunch of them, not wanting to move just because you want them to! You'll need to use your horse and yourself as best you can and push that bunch towards the rest. Our horses will be ready for the job at hand and so will you! Every hour that goes by horseback will build your confidence level and by the end of the first day, you will be good to go.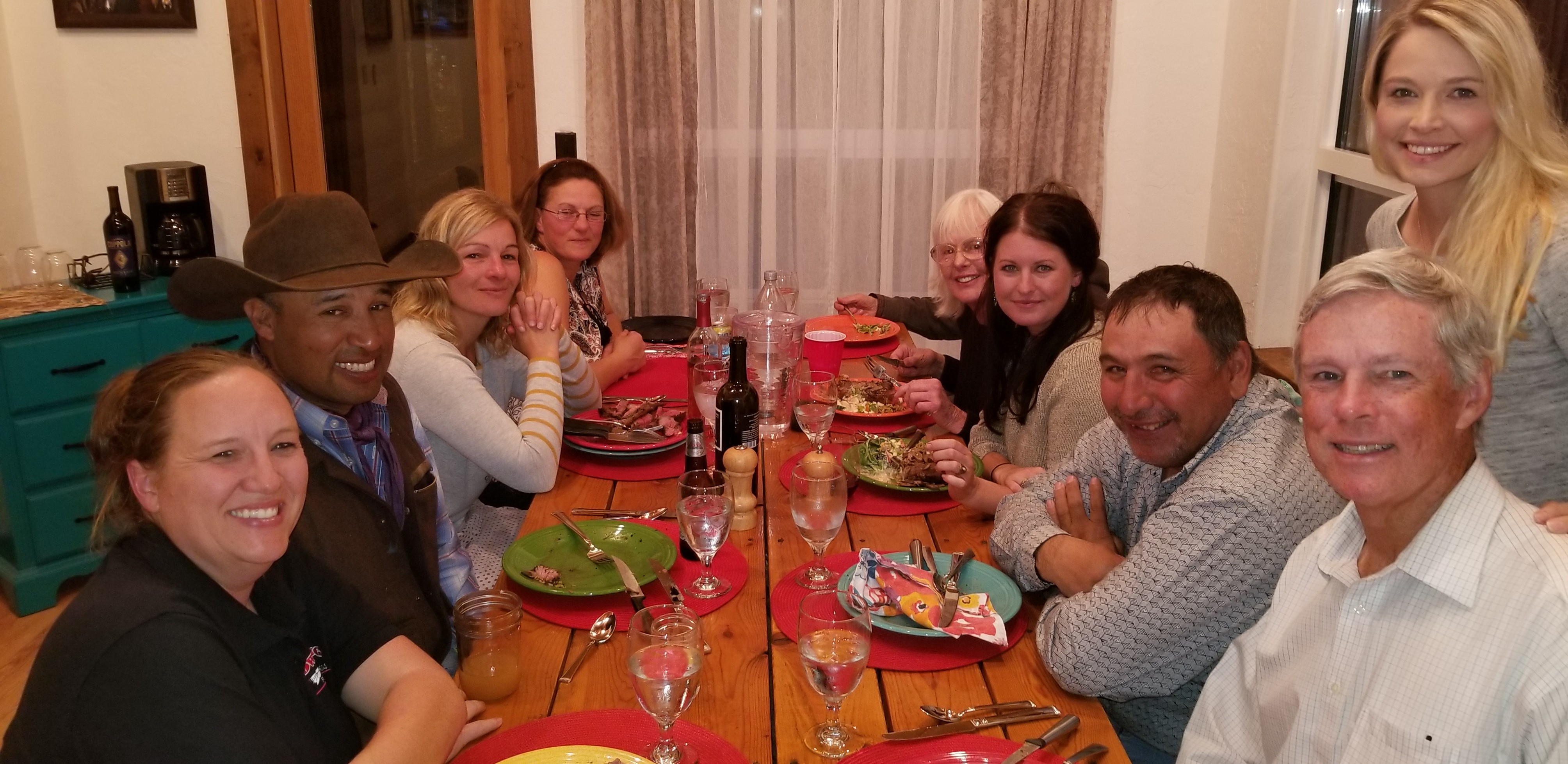 We'll be gathering cattle for at least two days while moving the main herd to a smaller, holding field, and then going back and finding and pushing strays and smaller groups of cows and calves to the same field. We should be ready to take the whole bunch cross country on Wednesday or Thursday and will be then be taking them cross country to their winter home at Four Horns Lakea, a two-day trip horseback and with any luck, the wind at our backs. On that note, you will notice a bit of snow in the pics from this past October, well, we had a blow alright but we kept on riding and had some absolutely gorgeous days as well. We did have some wind but for the most part, it was at our backs! Mornings in this part of Montana will be pretty nippy with the daytime sun warming things up. You'll need a good coat, hat, and gloves. You'll love this time of year.

If there is a trip with us that I'd say might involve a few more hours in the saddle over the period of five days this one would be it. We'll be needing to get all the cattle out of the foothills by the time we're done. We might have an easy day or two but may well have a long day or so mixed in. If you're in good shape and want to be there horseback you'll get it. Nevertheless, I would recommend some riding before you get here. We'll put the right horse in front of you for sure. You do your part as well.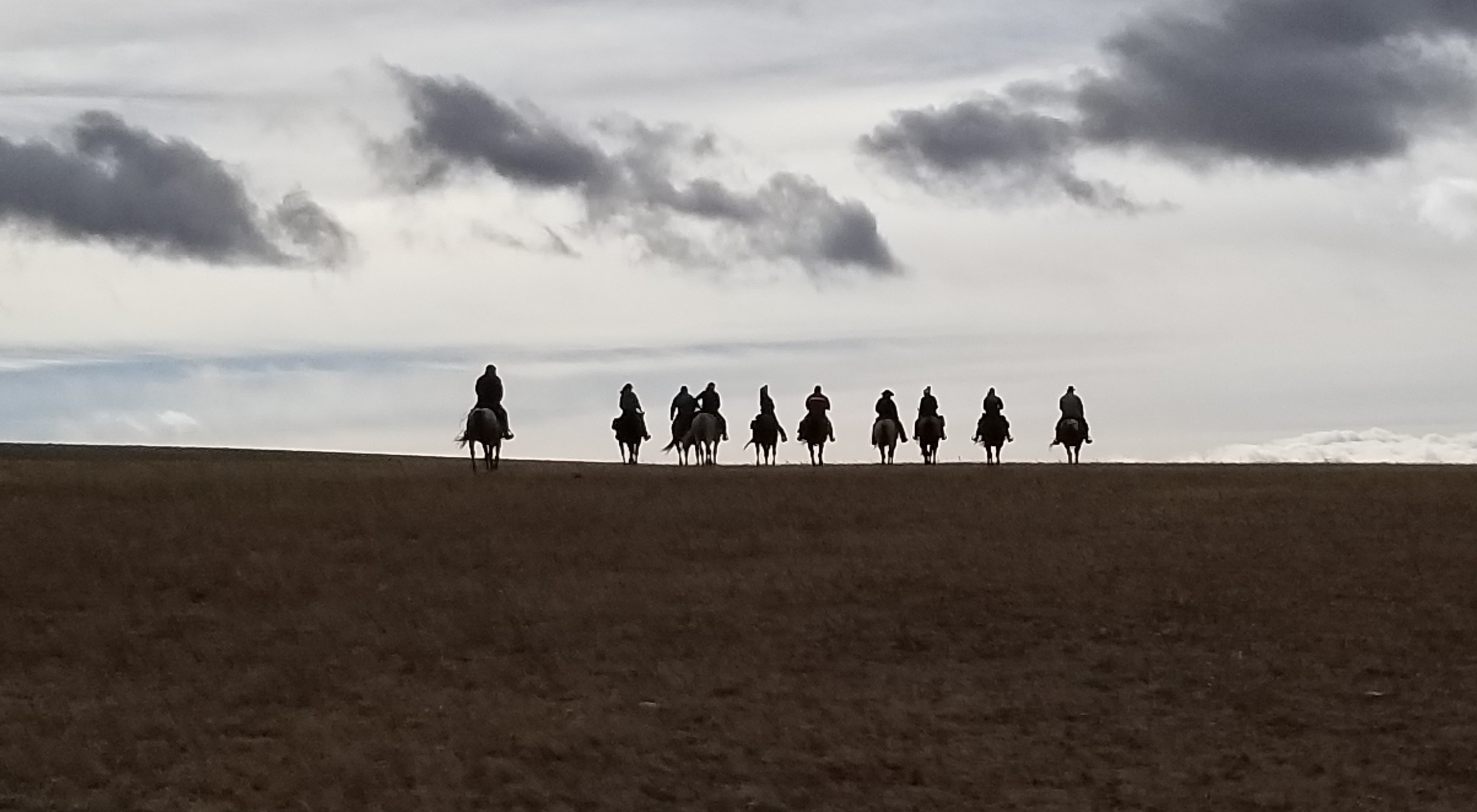 Hey, you are going to absolutely love the country, the riding, the folks you'll meet, our ranch, and certainly Ray Champ. You might even enjoy my company. We're going to have one big adventure, one you'll remember as long as you live, I kid you not. I hope you can join us next fall. Give a call when you can and I can answer any questions you might have and I might ask you a few myself. We'll go from there!
Here's to you having a great winter.
Bill Beck
Cost: $2495 per person, $4695 per couple, all inclusive.
*Some riding experience required.